神秘内容 Loading...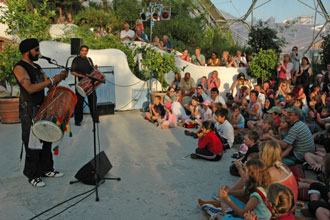 Traditional Scottish music isn't just bagpipes and fiddles. Rather, it includes a range of styles and forms that emerged from different strands of the country's historical, geographical and social heritage. (来源:www.EnglishCN.com)
The Gaelic Tradition
Gaelic music is perhaps the most ancient form of traditional Scottish music and in spite of it's minority language status, it continues to thrive, not just in its Highland and Islands homeland but across the country. The annual Mod - a celebration of Gaelic music and poetry and an autumn fixture on Scotland's cultural calendar - goes from strength to strength, giving voice to ancient melodies first heard around peat-fuelled fires. Traditional Gaelic airs, work songs and mouth music as accompaniment for dance represent the life of a people used to hardship but with sufficient romance in their souls to appreciate the therapeutic value of escape through music.
The Folk Tradition
Lowland Scotland has a separate but equally rich lyrical heritage, characterised by the vitality of the folk music scene. Like their predecessors whose ballads have stood the test of time, today's songwriters tackle topics of concern and record happenings which impact on the nation's life, as well as the essential fare of life, love and liberty.
Folk groups themselves range widely in style and have come a long way from the 'wooly-jumper-and-guitar' stereotypes of the 1960s. Today's folk bands haven't abandoned these roots but developed them to include a wide range of instruments and a mixture of Celtic styles - folk 'supergroups' like Capercaillie and Runrig have even used a fusion of folk-rock to bring Gaelic music to a younger and wider audience throughout Scotland.
Instrumental Music
Instrumental music is dominated by pipes, fiddles and accordians. They're the source of the rhythmic melodies which accompany all the forms of traditional dance but also exist in their own right, as witnessed in the massed pipe bands and drums, solo fiddlers and accordianists and the orchestras composed of many more.
Folk Clubs and Festivals
Every major town and city has at least one folk club which keeps traditional music alive, as do the dozens of festivals across the country. The premier showcase for the best the traditional music scene has to offer is Glasgow's Celtic Connections festival held each January. The perfect antidote to midwinter blues, Celtic Connections features an eclectic mix of folk, country, traditional Gaelic, fiddle and pipe music alongside contemporary and popular styles performed by home-based Scots and those from the Celtic diaspora.